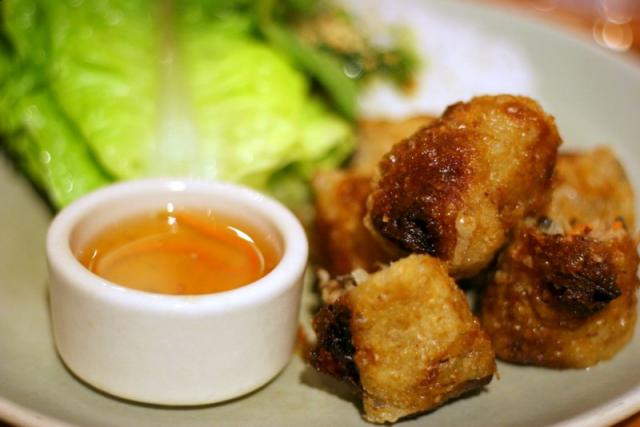 There is simply no better example of the quintessential San Francisco dining experience than
Slanted Door.
Named one of the
Top 100 restaurants in the US,
I was lucky enough to be introduced to this gem years ago, and I have been an addict ever since. They have moved several times, but their current location in the Ferry Building looks to be the last move. While I have eaten there on many wonderful occasions, I was lucky to head back there this last week, taking a client who was in from out of town. It occurred to me I never shared the amazing experience of a Slanted Door dinner with you!
Slanted Door is Vietnamese, but has evolved into something uniquely San Francisco. First, a word of warning: don't try to have dinner here without reservations. It just can't be done unless you come very early, or eat very late. Second, if you ignored my first words of advice, don't be afraid of the bar: it's a full menu, and sometimes the service is even better, as well as more intimate dining. Lastly, as my dining guest this week commented, "I feel cool just BEING here!" Embrace the atmosphere. Yes, there's a DJ spinning dining music. Yes, everyone is in tight black T-shirts. Go with it.
We had reservations at 8:30, and we could not be seated sooner. We strolled around the Ferry Building, then waited in the lounge. They tried to get us in earlier, to no avail. Finally, we were seated in the main rear section: louder than I like, but a small price to pay. Service was perfect: he was there when we needed him, and invisible when we did not.
Ok, skip to the good stuff. Appetizers: Imperial Rolls: perfectly flaky, flavorful, and hot. Niman Ranch Beef Carpaccio with peanuts and lime sauce: incredible; it exploded with flavor in your mouth. Main Courses: Meyer Ranch shaking beef: cubed filet mignon with garlic, watercress and organic red onions - incredibly tender, yet so much flavor. Out of this world. The crispy five spiced Liberty Farm duck legs with braised baby carrots, turnips and yellow finn potatoes were all duck should be, with remarkable intensity of flavor. Even though the crab is not yet in season, the cellophane noodles with fresh Dungeness crab meat were amazing. Oh, did I mention the green beans? Worth eating on their own.
A glass of French Red kept me happy, and Amy and our guest split the Strawberry mousse napoleon for dessert. Yes, we had food to take home, and they did a nice trick: they cleared the plates before dessert, and brought us the remainder of our dinner to take home only after dessert had been finished. Nice!
You simply can't go wrong with Slanted Door. Lunch is easier, and they even have their to go storefront in the main Ferry Building, Out The Door. But dinner, on the water with the twinkling of the Bay Bridge behind you, and the amazing food and service, is a treat unto itself.
* Service: 5 stars
* Food: 5 stars
* Ambience: 5 stars
* Overall: 5 stars