Gentle readers, you know of my quasi obsession with all things steampunk. Unlike many who share in this quirky alternate history reimagining, I posses extremely little actual talent in the use of tools or the artistic skills to put them to good use. Luckily, Bruce Rosenbaum of Sharon, MA, has not only the skills, but has transformed his home into his canvas of expressions. My friends, I give you the
Steampunk Home
.
T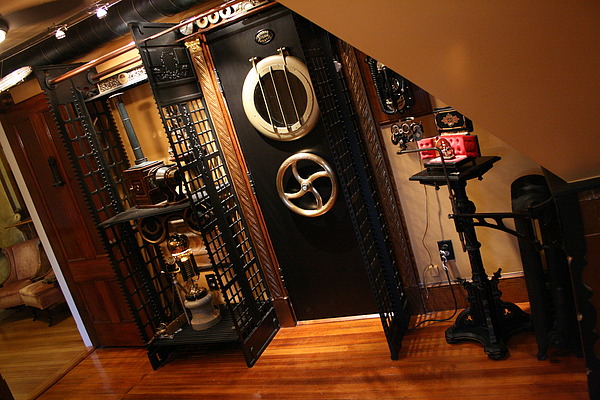 here are so many jaw dropping elements to this abode, I can barely believe it. The door to his file storage room in his home office pictured here is just the beginning. Not only does it simply stand on its own, but:
The lock wheel is functional and the signal light over the door illuminates along with the interior lights when the door is opened.
The kitchen alone is a marvel of design and efficiency, not to mention a first that I have seen at how it combines human and canine creature comforts. The false fireplace/mantle that artfully houses the home entertainment is another spectacular sight. Even the amazing ship's binnacle will house a home media server.
Head on over to the
Steampunk Workshop
for a full tour of this amazing home. Mr. Rosenbaum, I wholeheartedly admire and salute you. Mrs. Greenbaum, you truly are an amazing woman to have your home turned over to such an artisan and visionary. I am in awe of you both.